Explore a comprehensive guide to the top dropshipping suppliers from Turkey, offering the best selection of authentic Turkish Delight. Elevate your business with reliable suppliers, exquisite products, and seamless dropshipping services.
By the year 2023, it is estimated that the eCommerce industry in Turkey will witness a remarkable surge, with projected revenue reaching an impressive sum of 22.98 billion USD.  This revenue is expected to show compound annual growth rate (CAGR) of 14.46% during the period of 2023 to 2027. This projected growth rate would lead to a market volume estimate of approximately US$39.44 billion by the end of 2027. This substantial growth can be attributed primarily to the enticing shopping experiences provided by online retailers, surpassing the offerings of their offline counterparts. This article aims to shed light on the best dropshipping suppliers from Turkey, unveiling the hidden gems that can help you source high-quality products and establish a successful dropshipping business.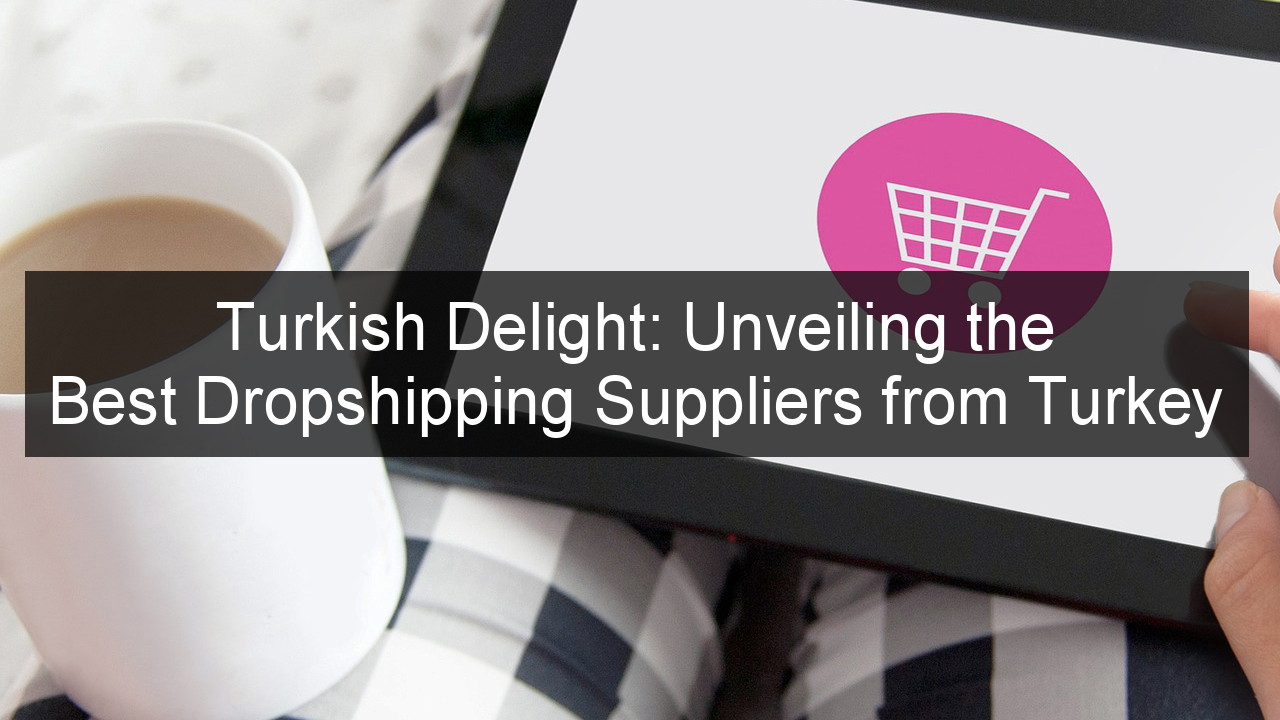 Turkish Dropshipping Market Overview
Turkey, with its rich history and diverse culture, has become a hotspot for dropshipping suppliers. The country's strategic location at the crossroads of Europe and Asia provides a gateway to global markets. Turkish suppliers offer a wide range of products, from apparel and accessories to home goods and electronics. With their competitive pricing and quality craftsmanship, Turkish suppliers have earned a reputation for reliability and customer satisfaction.
Top Turkish Dropshipping Suppliers
When it comes to selecting the right dropshipping suppliers from Turkey, it's crucial to partner with reputable companies that meet your business's needs. Each supplier brings unique strengths and caters to different niches within the e-commerce market. Let's explore some of the top Turkish dropshipping suppliers in detail:
1. Trendyol:
URL: trendyol.com
Established: Trendyol is one of Turkey's largest e-commerce platforms, established in 2010.
Niche: Trendyol covers a broad range of products, including fashion, beauty, home goods, and electronics.
Payment Options: They offer various payment options, including credit cards and Trendyol's own payment system.
Strengths: Trendyol's extensive customer base, strong logistics network, and trusted reputation make it an attractive choice for dropshippers targeting the Turkish market.
2. Vannes:
URL: vannes.com.tr
Established: Vannes has been operating since 2005, specializing in fashion accessories and jewelry.
Niche: Vannes caters to the fashion industry, offering a wide range of trendy accessories and jewelry pieces.
Strengths: Vannes' strengths lie in their stylish and high-quality products, quick order processing, and their dedication to customer satisfaction.
4. Pestemal:
URL: pestemal.com
Established: Pestemal has been in the business of traditional Turkish textiles since 2000.
Niche: Pestemal specializes in traditional Turkish towels, bathrobes, and home textiles.
Strengths: Pestemal excels in producing authentic Turkish textiles, known for their exceptional quality and unique designs. Their strength lies in the authenticity and cultural value of their products.
5. Makrom:
6. Turkopt:
7. Wholesale Turkish Textile:
8. Yedaiah:
9. Merter Vitrini:
10. Hepsiburada:
11. Sardinelli:
Why Choose Turkish Dropshipping Suppliers?
Turkey has emerged as a leading hub for dropshipping, attracting entrepreneurs from around the globe. Here are some compelling reasons to consider Turkish dropshipping suppliers, specially in textile industry :
1. Quality Products: Turkey is renowned for its high-quality products across various industries, including fashion, home decor, textiles, and more. Customers appreciate the craftsmanship and unique designs that Turkish suppliers offer. Turkey is indeed a major player and one of the leading textile countries in the world. Turkey has a well-established textile sector with a strong presence in both domestic and international markets.
2. Competitive Pricing: Turkish dropshipping suppliers often provide competitive pricing due to their close proximity to manufacturers and favorable trade agreements. This allows you to maximize your profit margins and offer attractive prices to your customers. One of the key factors contributing to the competitive pricing of Turkish fashion products is the country's access to a diverse range of raw materials at affordable prices. Turkey is geographically located near key textile-producing regions, such as cotton-growing areas, which allows for easier access to raw materials. This proximity helps reduce transportation costs and ensures a stable supply of materials, enabling Turkish manufacturers to offer competitive pricing.
3. Diverse Product Range: From traditional Turkish handicrafts to modern, trendy items, Turkish suppliers offer a diverse range of products to cater to different markets and customer preferences. One of Turkey's strengths in the textile industry is its abundant supply of raw materials. The country has access to a wide range of natural fibers, including cotton, wool, and silk, which are used in textile production. Turkey also imports synthetic fibers such as polyester and nylon to meet the diverse needs of the industry.
4. Reliable Manufacturing Infrastructure: Turkey boasts a robust manufacturing infrastructure, with modern facilities and efficient supply chains. This ensures that your orders are processed smoothly and delivered on time. The country has made significant investments in developing its manufacturing capabilities, creating a strong and efficient infrastructure to support textile production. Turkey has established textile clusters and industrial zones that bring together manufacturers, suppliers, and support services in a concentrated area. These clusters enable collaboration, knowledge sharing, and economies of scale, which contribute to the overall efficiency and competitiveness of the manufacturing sector.
5. Cultural Richness: Turkish products reflect the rich cultural heritage of the region, making them popular among customers seeking unique and authentic items. Capitalize on this appeal to attract a niche market of culturally-conscious consumers.
Conclusion
The world of dropshipping presents a wealth of opportunities for aspiring entrepreneurs, and Turkey stands out as a vibrant hub for sourcing high-quality products. Throughout this article, we have explored the best dropshipping suppliers from Turkey, uncovering their unique offerings and highlighting the advantages they bring to the table. From textiles and clothing to home decor, jewelry, and more, Turkey's diverse range of products caters to a wide customer base across the globe. By partnering with reliable Turkish suppliers, entrepreneurs can access an array of exceptional products, benefit from competitive prices, and tap into the country's rich cultural heritage. As you embark on your dropshipping journey, keep in mind the valuable insights shared here, and may your business thrive with the Turkish delight it deserves.