In today's digital age, setting up an online store has become increasingly popular for individuals and businesses alike. With numerous e-commerce platforms available, it can be challenging to determine which one is the best fit for your needs. In this article, we will compare two prominent platforms, Etsy and Shopify, to help you make an informed decision. Let's dive into the details and explore the features, benefits, and drawbacks of each platform.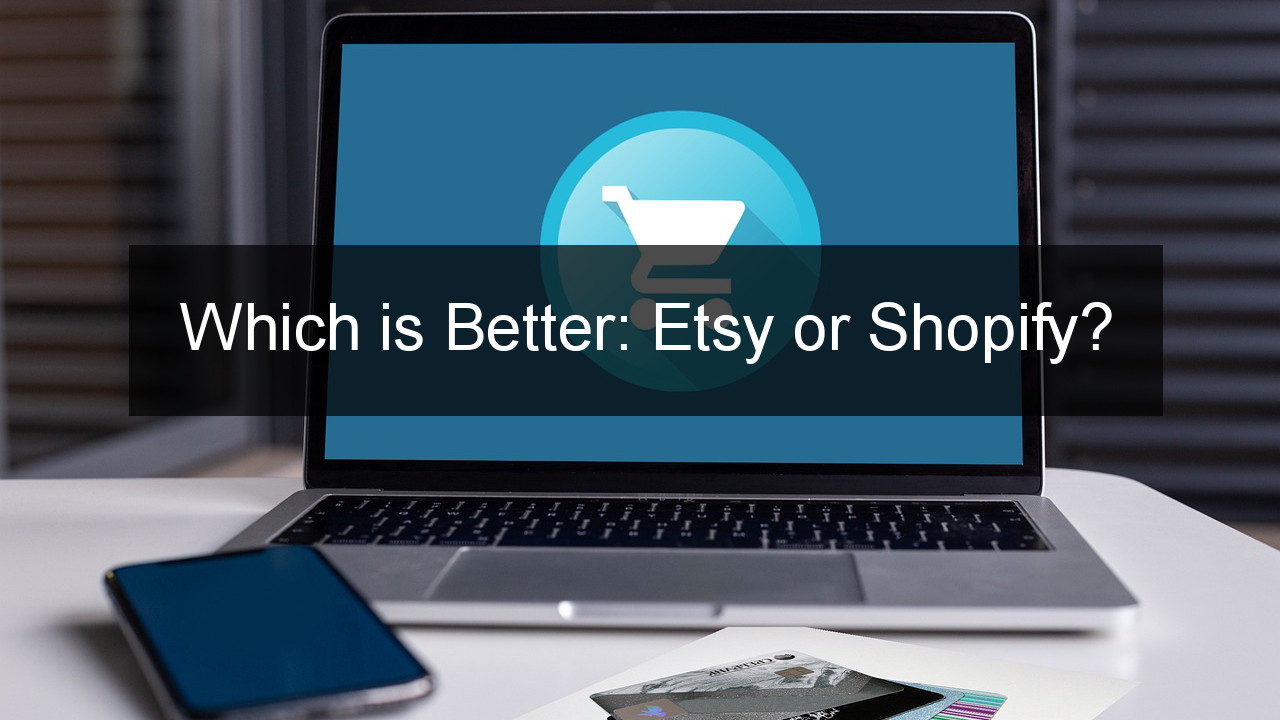 1. Introduction
Before we delve into the comparison, let's provide a brief overview of Etsy and Shopify. Etsy is an online marketplace that primarily focuses on handmade, vintage, and unique items. It provides a platform for individual sellers and small businesses to showcase and sell their products. On the other hand, Shopify is a comprehensive e-commerce platform that allows businesses to create and manage their online stores efficiently.
2. Overview of Etsy and Shopify
Etsy is known for its niche market, catering to buyers who appreciate handmade and vintage items. It has a large customer base of individuals who actively seek out unique products. Shopify, on the other hand, caters to a broader range of businesses, including those selling physical products, digital goods, or services. It offers more flexibility and scalability for businesses looking to grow their online presence.
3. Ease of Use
Etsy
Etsy is designed with simplicity in mind, making it easy for sellers to set up their shops and start selling quickly. The platform provides intuitive tools for managing inventory, processing orders, and communicating with customers. Even users with limited technical skills can navigate and utilize Etsy effectively.
Shopify
Shopify also prioritizes user-friendliness, offering a user-friendly interface and a straightforward setup process. It provides a step-by-step guide to help users create their online stores seamlessly. Shopify's dashboard is intuitive, allowing sellers to manage their products, orders, and marketing campaigns efficiently.
4. Design and Customization
Etsy
Etsy offers a range of customizable templates and themes that sellers can use to create a unique storefront. While the level of customization is limited compared to Shopify, Etsy provides enough flexibility to showcase products in an appealing and personalized way. Sellers can upload their own banners, logos, and product images to create a distinct brand identity.
Shopify
Shopify excels in design and customization options, offering a vast collection of themes and templates. Sellers can choose from free or premium themes, and further customize them to align with their brand image. Shopify's drag-and-drop interface enables sellers to build attractive and professional-looking online stores without any coding knowledge.
5. Product Listing and Management
Etsy
Listing products on Etsy is relatively straightforward. Sellers can upload product photos, write descriptions, and set prices. Etsy provides specific categories and tags to help buyers discover products easily. Additionally, Etsy allows sellers to manage their inventory, track sales, and communicate with customers conveniently.
Shopify
Shopify provides robust product listing and management capabilities. Sellers can easily add product details, images, and variants to create comprehensive listings. The platform also offers inventory management features, allowing sellers to track stock levels and receive notifications when products are running low. Furthermore, Shopify enables bulk product uploads, making it efficient for sellers with a large catalog.
6. Payment Processing
Etsy
Etsy has a built-in payment processing system called Etsy Payments. It supports various payment options, including credit cards, PayPal, Apple Pay, and Google Pay. Sellers can receive payments directly into their Etsy accounts, and the platform handles the payment process securely.
Shopify
Shopify integrates with multiple payment gateways, allowing sellers to choose their preferred option. It supports major providers such as Shopify Payments, PayPal, Stripe, and more. This flexibility enables sellers to select the payment methods that best suit their customers' preferences and their business needs.
7. Marketing and Promotion
Etsy
Etsy has a built-in audience, which can help sellers reach potential customers without extensive marketing efforts. The platform has its own search algorithm, which considers factors such as product titles, descriptions, tags, and customer reviews to determine search result rankings. Sellers can also promote their products through Etsy Ads, increasing their visibility within the marketplace.
Shopify
Shopify provides a range of marketing tools and features to help sellers promote their online stores. It offers built-in SEO features, allowing sellers to optimize their store for search engines. Additionally, Shopify integrates with various marketing apps and provides social media integration, making it easier for sellers to expand their reach and drive traffic to their stores.
8. Fees and Pricing
Etsy
Etsy charges several fees to sellers, including listing fees, transaction fees, and payment processing fees. These fees vary depending on factors such as listing duration, transaction value, and the seller's location. It's important for sellers to consider these fees when pricing their products and evaluating their profitability.
Shopify
Shopify operates on a subscription-based pricing model. It offers different plans with varying features and transaction fees. Sellers can choose the plan that suits their business needs. While there are additional costs associated with third-party apps and payment processing, Shopify's transparent pricing structure allows sellers to budget effectively.
9. Support and Resources
Etsy
Etsy provides extensive seller support and resources. Sellers can access the Etsy Seller Handbook, which offers guidance on various topics, including photography, SEO, and marketing. The platform also has a dedicated seller community where sellers can connect, share knowledge, and seek advice.
Shopify
Shopify offers 24/7 customer support via live chat, email, and phone. Additionally, it provides a vast knowledge base, documentation, and tutorials to help sellers navigate the platform effectively. Shopify's community forums and expert marketplace also offer additional resources and support for sellers.
10. Integrations and Apps
Etsy
Etsy has a limited number of integrations and apps compared to Shopify. While sellers can connect with some third-party services such as shipping providers and inventory management systems, the options are relatively limited. However, Etsy's focus on a streamlined user experience means that most essential features are built directly into the platform.
Shopify
Shopify boasts a robust app store with thousands of integrations and apps. Sellers can extend their store's functionality by integrating with various tools, including email marketing platforms, accounting software, and customer support systems. The extensive app ecosystem allows sellers to customize their stores and enhance their overall business operations.
11. Scalability and Growth Potential
Etsy
Etsy primarily caters to individual sellers and small businesses. While it offers opportunities for growth and success, the scalability may be limited compared to Shopify. Sellers on Etsy rely on the platform's existing customer base, and their growth potential is influenced by the overall traffic and demand within the marketplace.
Shopify
Shopify provides excellent scalability and growth potential for businesses of all sizes. Its robust infrastructure can handle high traffic volumes, ensuring that stores remain functional and responsive even during peak periods. Shopify also offers advanced features and plans tailored to meet the needs of growing businesses, making it an ideal choice for scaling online stores.
12. Conclusion
In conclusion, both Etsy and Shopify have their strengths and weaknesses. Etsy is well-suited for individuals and small businesses looking to sell unique, handmade, and vintage items within a niche marketplace. It provides simplicity, a built-in audience, and a supportive community. On the other hand, Shopify offers greater customization, scalability, and flexibility for businesses of all sizes. It provides comprehensive e-commerce features, extensive app integrations, and the potential for significant growth.
Ultimately, the choice between Etsy and Shopify depends on your specific requirements, target audience, and business goals. Consider factors such as the type of products you sell, your desired level of customization, scalability needs, and budget. Both platforms offer free trials, allowing you to explore their features and determine which one aligns better with your business vision.