Blogging has become a popular way to share ideas, connect with others, and even earn income. If you're thinking about starting a blog, you've likely heard of WordPress. Based on website builtwith.com, WordPress is a content management system that powers over 27% of CMS usage distribution in the top 1 million sites in the internet as of 1st March 2023. In this article, we will explain what WordPress is, the difference between WordPress.com vs WordPress.org (self hosted), and why self-hosted WordPress is a good choice for blogging. We'll also cover the steps to start, manage WordPress, choose a domain, publish a WordPress post, promote your blog, and how to monetize it.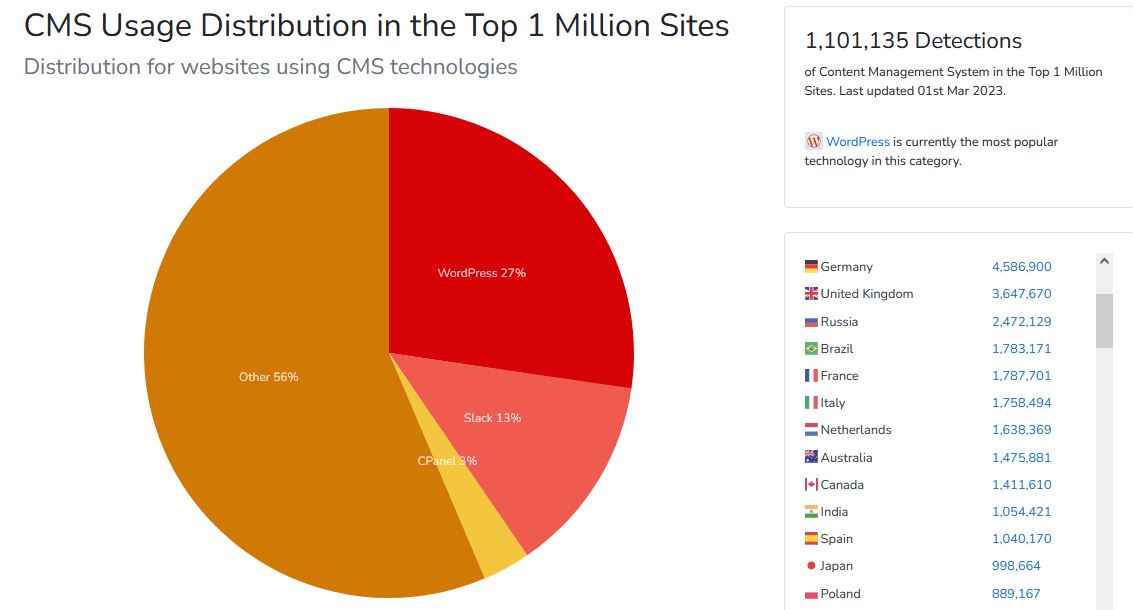 WordPress is a free, open-source content management system that allows users to create and manage websites easily. WordPress.com offers a free version for basic blogging, while WordPress.org is self-hosted and requires users to purchase web hosting and a domain name. Self-hosted WordPress is a good choice for blogging because it offers more flexibility and control over your website. You can customize your website design and add features using themes and plugins. Also, you have ownership and control of your website's data, unlike WordPress.com where the website owner does not have full control over the site. WordPress.com is a free blogging platform that hosts your website for you. It has limited customization options, and you do not have full control over your website's data. WordPress.org is self-hosted, meaning you will need to purchase web hosting and a domain name. This option gives you full control over your website's design and data. A self-hosted WordPress site is a good choice for blogging because it offers more control, flexibility, and customization options.
This article will cover the steps to start, manage, and grow your WordPress blog. We will explain how to choose a domain name and web hosting, install WordPress, choose and customize themes, and add plugins. We will also cover how to publish your first WordPress post, promote your blog on social media and search engines, and how to monetize your blog. By the end of this article, you'll have a complete guide to starting, managing, and growing your WordPress blog.
How to Start WordPress Blog in 2023
Learn how to start a WordPress blog from scratch. Start with choosing topics for a blog, understand how does WordPress works, and finally how to launch WordPress with Bluehost hosting.
Those days are long gone when marketing your business was limited to traditional marketing channels like weekly magazine ads, newspapers, and television. Today, people are more interested in taking things into consideration they see online.
Our lives revolve around the internet. We're busy scrolling through our social media accounts, reading Google reviews before visiting a restaurant or store, and browsing the products on a brand's website before visiting their outlet. The same is the case with your targeted audience.
Whether you're an influencer, own a law firm, software house, personal brand, or grocery store, there are greater chances that your targeted audience spends most of their time using the internet. In this regard, if you still haven't created a website for your business, you're already a step behind your competitors. And without a website, it is nearly impossible to take your business to its full potential in this era of the internet.
Are you looking forward to creating a blog using WordPress? Want to set up a WordPress website for your business? Well, you've come to the right place.
1. How to Launch WordPress Site using Bluehost
If you're looking forward to creating your WordPress website and marketing your business online, you've come to the right place. We've listed these easy steps to start a responsive WordPress website.
Before we get started, it is important for you to know the basics of creating a website. People new to starting a website should know that one must have a domain name and a hosting plan to begin creating a website.
1.1 About Domain Name
A domain name identifies the presence of your website on the internet. Let's take an example of the URL www.wordpress.com. In this URL, the domain name is "WordPress". Still, which is the best place to buy your domain name? Well, the following are the top 5 domain name providers worldwide:
HostGator
GoDaddy
Bluehost
Shopify
BuyDomains
From the above-mentioned list, Bluehost is the most recommended domain name provider for newbies. The easy-to-use interface, quality customer support, and simple check-out process make domain registration a hassle-free task.
1.2 Website Hosting
A website hosting is basically a server or internet hosting service where your website will be hosted. A hosting service makes your website available to the world via the internet. There are dozens of web hosting services available each one offering something different than the other.
Most of the audience reading this are probably doing this the first time. At the same time, Bluehost is recognized as the most user-friendly hosting service. Considering a simple interface, rich features, and affordable hosting plans, Bluehost stands above most hosting plans.
Easy way to Start a WordPress Website with Bluehost hosting
Let's just not waste any more time and get to the point. As complex as it seems, starting a WordPress website using Bluehost is not that difficult. It is just like signing up for a new social media platform – that you've been doing for years. Keep following and learn more about integrating WordPress with Bluehost.
a) Sign Up with Bluehost Hosting
The very first step of creating a WordPress website is signing up with Bluehost. First of all, you have to select a hosting plan. Almost every hosting provider offers several plans according to the website's needs. Bluehost offers a number of hosting plans such as follows:
WordPress Hosting
VPS Hosting
Shared Hosting
Dedicated Hosting
As it's your first time creating a website, we recommend you choose a shared hosting plan.
Concerned about other hosting plans? Well, learn more here about WordPress hosting, VPS Hosting, and Dedicated Hosting.
Now that you've bought a hosting plan to put your website on the internet, the next step is to choose a domain name.
b) Register a Domain Name
Guess what? Bluehost provides a free domain for 1 year with all hosting plans. After selecting a hosting plan i.e. basic, plus, choice plus, or pro, click "Create a Domain Name" option on the next page and type your company name.
Most of the time, it is easier to find domain names for new companies or business entities where names are unique. However, if you're looking to buy broad domain names like bestbikes.com, technologytrends.com, or buybestfurniture.com, it may be a bit difficult as broad domain names are often already registered.
In any case, make sure the domain name you select relates to your business. After entering a domain name, you'll also be provided with some suggestions by Bluehost to make domain registration an easier process.
c) Enter Personal Account Info
This is simple. All you have to do is enter your account details i.e. name, business name, complete address, contact, and email address. You can either take the time to complete the signup process or continue with a Google account to save this hassle.
d) Review Your Hosting Plans
After completing the signup process, you still have the option to review the hosting plan you selected earlier. Make sure to go through each and every detail so you're not charged with anything you don't need for your website.
This is because sometimes, Bluehost will add several extras to your hosting plan cart including SideLock Security, SEO Tools, Domain Privacy Protection, and more.
Unless you have a clearer idea of what these add-ons will do to your website, it is recommended to unselect all the options and just stick to the hosting plan. In case you need them, there is an option to add them later.
Pro Tip: Go to the Account Plan and you'll see an option asking for how many years you want to sign up to the hosting plan. Note that signing up for long can give you a considerate discount per month. Most business owners prefer signing up for 36 months plan.
e) Enter Payment Details
Finally, all you have to do now is enter your payment details and checkout. Bluehost is known to provide a 30-day money-back guarantee. So, if, for any reason, you're not satisfied with the hosting service, you can demand a refund. Live chat with their customer support and you'll be provided with all necessary information to initiate the refund process.
2. Integrate WordPress With Bluehost
It has never been easier to start a WordPress blog using Bluehost. After signing up for Bluehost, the next step is to install WordPress on Bluehost. Is WordPress easy to use? The answer is YES.
Considering the user-friendly and fast interface of Bluehost, installing WordPress on Bluehost is also an easy task. The following are 4 easy steps to install WordPress on Bluehost.
2.1 Login
First of all, login to your Bluehost account à Go to My Sites à and click "Create Site" option on the top-right corner of the window.
2.2 Enter Website Information
Now enter your website info. This includes some basic website info including the website name, title, and more. If you're not so sure about the tagline/motto or name of your website, just add any dummy content as you can change all this later. Click "Next".
2.3 Enter Your Domain Name
On the next page, click the field under the "Domain" section and select the domain name you registered while signing up to Bluehost earlier. Bluehost also gives you an option to install some of their plugins. If they do, make sure to conduct thorough research as you might end up installing things you don't need at all.
2.4 Install WordPress on Bluehost
Click "Next" and the WordPress will be installed on your Bluehost. The next page will showcase your login credentials. Make sure to keep them safe as you'll be needing them quite often from now on. Select the "Login to WordPress" button to open your new WordPress site.
3. Use These Bluehost Tools to Set Up a WordPress Website
Please don't get confused if you've made a WordPress site before and see this information completely different. Note that you can always create your own website using WordPress's own dashboard. However, as this article talks about creating a WordPress website using Bluehost, we've crafted an easier way to get your website started.
In this regard, Bluehost provides its own dashboard to get around website making and managing your site. Using the Bluehost's own dashboard on top, you can:
Create and manage new posts and pages
Manage or update your menus
Take help from WooCommerce to create an e-commerce site
Create a dummy website to check the response
Still, concerned about the Bluehost's dashboard? Well, all of these are genuinely WordPress's features and just curated into one small dashboard of Bluehost for easy access.
Here is how you can benefit from Bluehost's special website-creating features.
3.1 Quick Launch Wizard
The Quick Launch Wizard of Bluehost is there to make things easier for you. Quick Launch Wizard will help you set up basic website utilities like Contact Form, Jetpack, Caching, and more.
3.2 WordPress Theme
Bluehost automatically sets up a generic theme for your blog. But if you're looking forward to a more professional approach, it is recommended to go for premium themes.
Selecting the ideal theme for your website is essential as your theme is going to stay there forever. This is because it is not recommended to change themes every now and then – especially when your website starts getting decent traffic. It can hurt SEO.
If you aren't getting what you want in the Bluehost theme marketplace, there are thousands of themes available outside WordPress and Bluehost marketplace. Choose the one that suits your style, business theme, and complements the niche.
3.3 Rich Plugins
Installing the right plugins can boost your website-making process. For example, if you own an e-commerce store, installing WooCommerce can make your e-commerce life easier. First of all, delete all the pre-installed plugins like Jetpack, WP Forms Lite, Akismet Anti-Spam, and then install your own plugins.
Some useful plugins to aid you in the WordPress blog making process are as follows:
Yoast SEO: Help you enhance your site's on-page SEO and notifies about the posts/content ranking higher than others.
WP Super Cache: Keeps the cache clear and speeds up your website for the better good.
Contact Form 7: Helps you create, manage multiple contact forms and integrate captcha validation.
Elementor Page Builder: Certainly, the best choice for newbies. Elementor Page Builder lets you create eye-catching web pages using templates and easy-to-use editing tools.
3.4 Write and Post Content
Last but not least, quality, SEO optimized, and content specifically curated for a particular audience is makes a website stand out of the competition. Keep posting content that isn't only optimized but also provides value to the users.
Google is getting smarter day by day and it can sense content that values the readers and provide the right answers. Thus, investing in content marketing is a must. Good Luck!
4. Pro Tips to Create an Awesome Blog Using WordPress Bluehost
The following are some proven tips by digital marketers to implement while creating a WordPress website or blog.
Select a theme that complements your niche, content, and business scenario. For example, choosing a bright-colored theme for a healthcare center is not recommended. Rather, you should choose light colors.
Update your title, tags, and meta description and enrich it with high-quality SEO keywords. Make sure to stay within the recommended word count to showcase an ideal look of the website and content in SERP.
You can either choose a static or blog page for your home page. Make sure the home page of your website is filled with quality, rich content and engages users to navigate through the site more.
Create an easy-to-navigate menu to reduce the bounce rate. In this regard, use the Silo structure menu style to rank higher provide a high-quality user experience.
Do not forget to create business accounts on all social media platforms famous among your audience and integrate social media buttons on your website.
Following the above-mentioned steps, one can easily create a WordPress blog website or business website using Bluehost. However, make sure to take some time and invest in your time for optimal results.
In case of further questions or suggestions, feel free to leave a reply or contact us.