Are you planning to start an online store using Shopify? One of the most crucial steps in setting up your e-commerce business is adding products to your Shopify store. In this comprehensive guide, we will walk you through the process of adding products to your Shopify store, whether you're doing it manually or in bulk. Let's get started!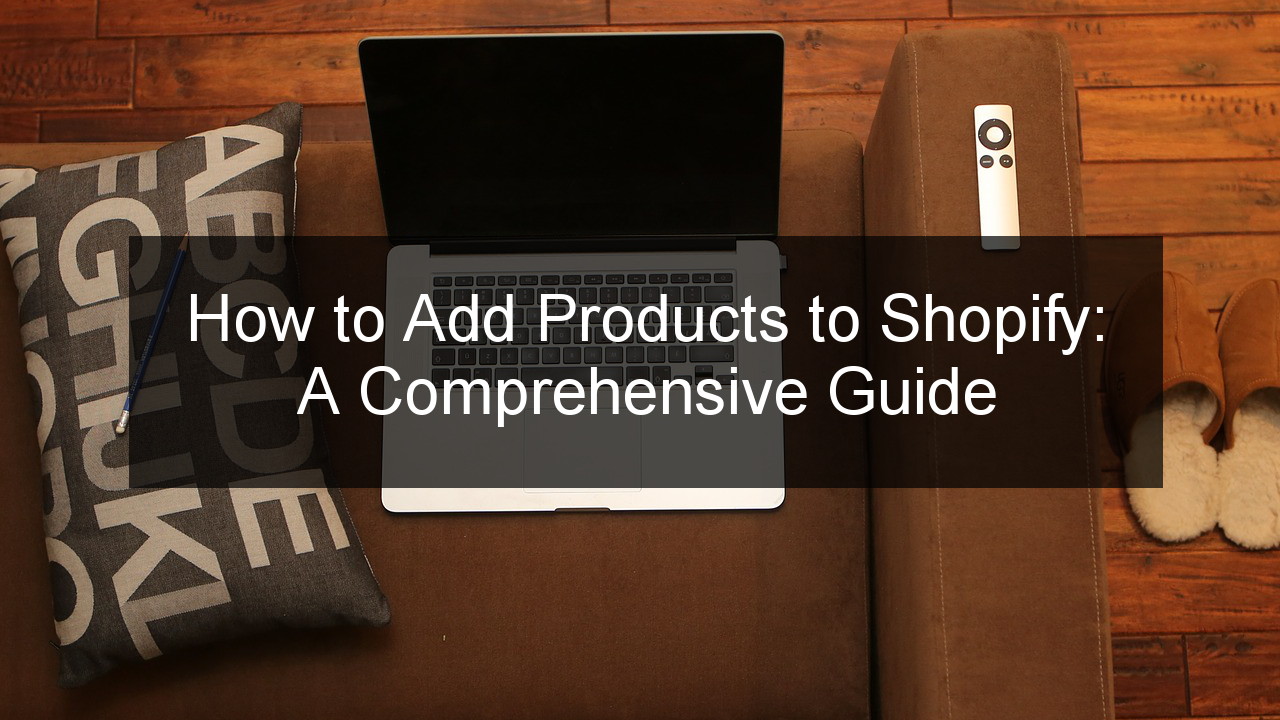 1. Introduction
Before we dive into the details, let's understand the basics. Shopify is a popular e-commerce platform that allows entrepreneurs to create and manage their online stores without any coding knowledge. Adding products to your Shopify store is a straightforward process that involves entering product information, setting prices, uploading images, and optimizing product pages for search engines. Let's explore each step in detail.
2. Setting up your Shopify store
2.1. Creating a Shopify account
To begin, visit the Shopify website and sign up for an account. You can start with a free trial and choose a plan that suits your business needs. Once you've created your account, you'll have access to your Shopify dashboard.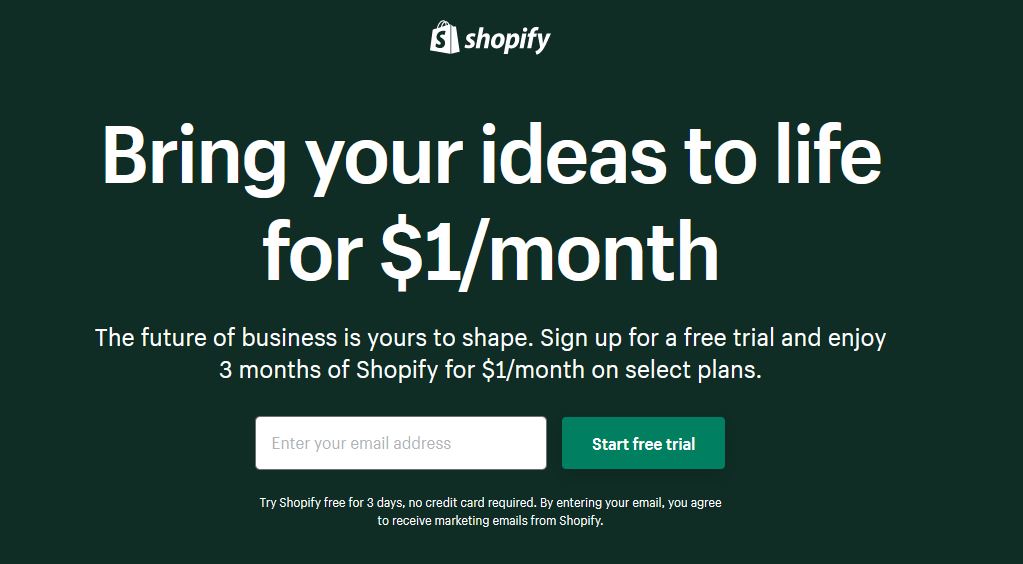 2.2. Choosing a theme
Shopify offers a wide range of professionally designed themes to give your store an attractive look. Browse through the available themes and select one that aligns with your brand image and target audience.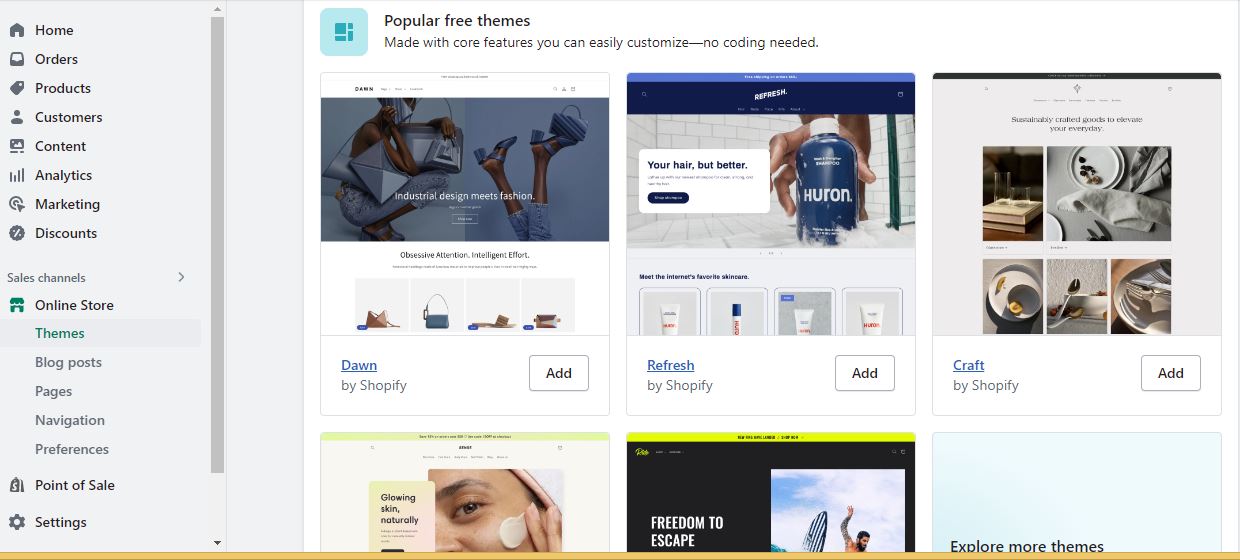 2.3. Customizing your store
After selecting a theme, you can customize it to match your branding. Customize your store's colors, fonts, and layout to create a unique and appealing online storefront.
3. Understanding product types and variants
3.1. Differentiating between product types
In Shopify, products are classified into different types based on their attributes and variations. Common product types include physical products, digital downloads, services, and gift cards. Understanding the different product types will help you organize your inventory effectively.
3.2. Creating product variants
Product variants allow you to offer different options for the same product, such as size, color, or material. By creating variants, you can provide your customers with more choices and increase their buying options.
4. Adding products manually
4.1. Accessing the products section
To add products manually, go to your Shopify dashboard and navigate to the "Products" section. Click on the "Add product" button to start adding a new product.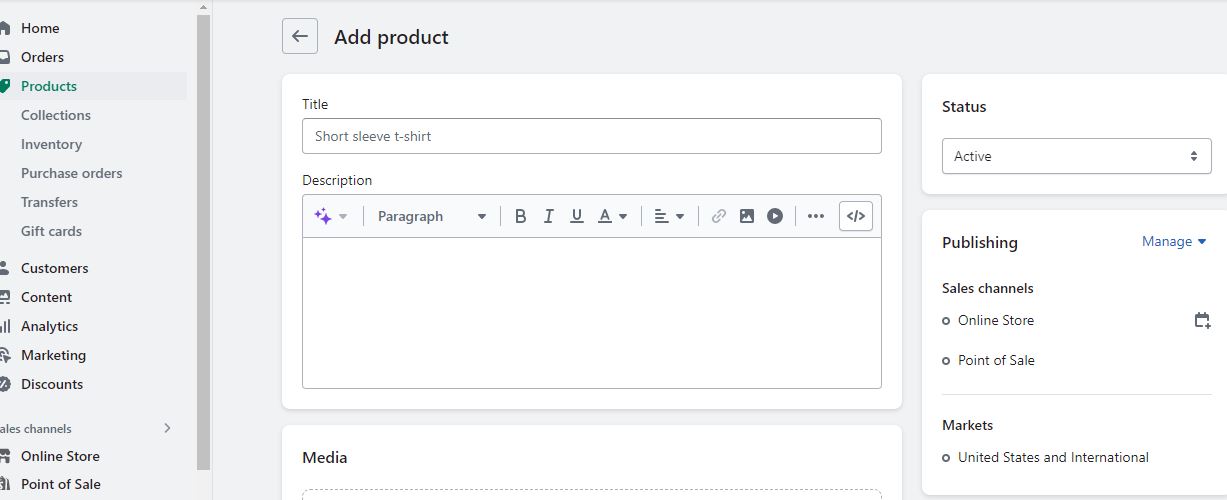 4.2. Adding basic product information
Enter the product title, description, and other relevant details such as SKU, barcode, and vendor. Make sure to provide accurate and enticing product information to attract potential customers.
4.3. Setting prices and inventory
Specify the product's price, compare-at price (if applicable), and track the inventory by entering the stock quantity. You can also enable options like allowing customers to purchase products when they are out of stock.
4.4. Uploading product images
Upload high-quality product images that showcase your products from different angles. High-resolution images help customers visualize the product and make informed purchasing decisions.
4.5. Adding product descriptions
Craft compelling and detailed product descriptions that highlight the key features and benefits. Use persuasive language and address the pain points of your target audience to convince them to make a purchase.
5. Importing products in bulk
5.1. Preparing your product data
If you have a large inventory, manually adding each product can be time-consuming. To save time, you can prepare your product data in a CSV or Excel file with all the necessary attributes.
5.2. Using CSV or Excel files for import
In Shopify, you can import products in bulk by uploading a CSV or Excel file. Make sure your file is properly formatted and contains all the required product information, including titles, descriptions, prices, and images.
5.3. Mapping product attributes
During the import process, you'll need to map the columns in your CSV or Excel file to the corresponding product attributes in Shopify. This step ensures that the product data is imported correctly.
6. Managing product collections
6.1. Creating collections
Collections allow you to group similar products together. You can create collections based on categories, brands, or any other criteria that make sense for your store. Organizing products into collections enhances the browsing experience for your customers.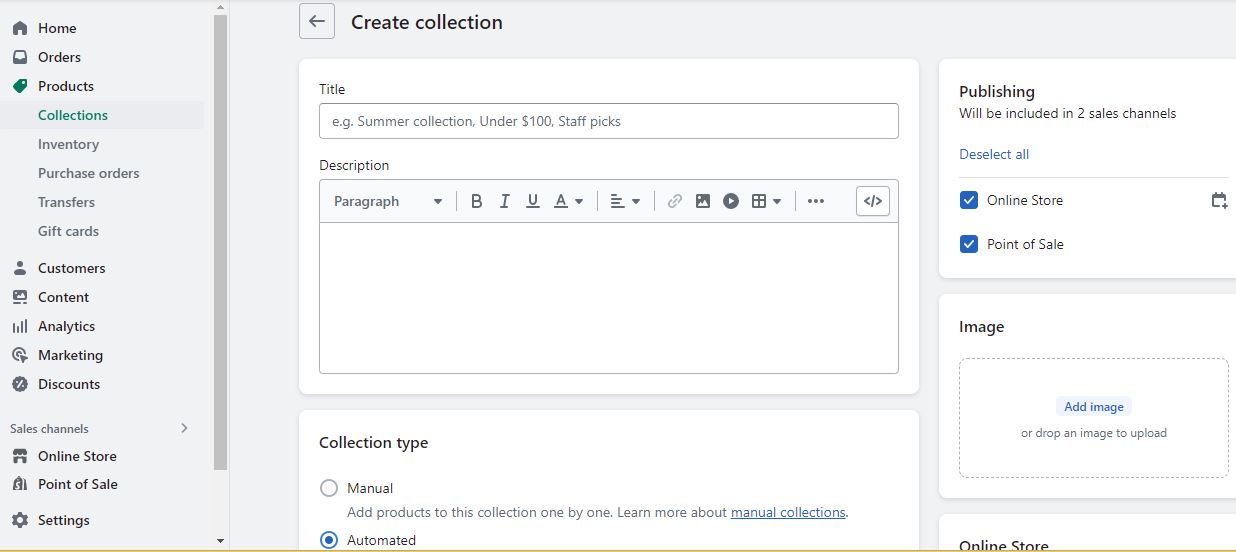 6.2. Organizing products into collections
Once you've created collections, you can assign products to them. Shopify provides an intuitive interface to help you organize your products into collections, making it easier for customers to find what they're looking for.
7. Optimizing product pages for SEO
7.1. Writing compelling product titles
Craft catchy and descriptive titles that incorporate relevant keywords. A well-optimized product title increases the chances of your products appearing in search engine results.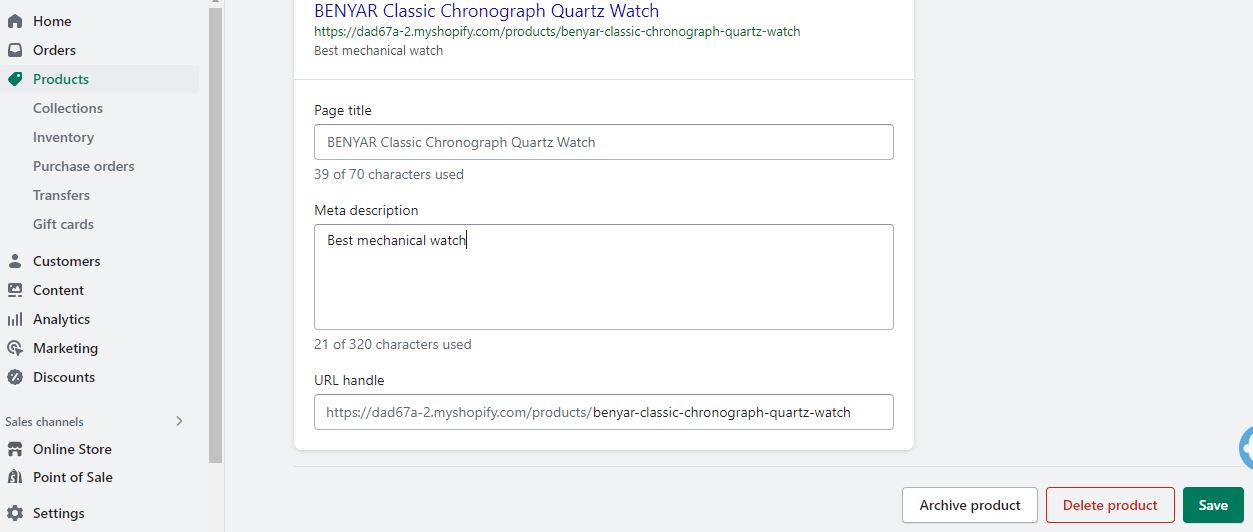 7.2. Crafting detailed product descriptions
Write unique and detailed product descriptions that highlight the features, benefits, and unique selling points. Use persuasive language to engage potential customers and drive conversions.
7.3. Adding relevant keywords
Research relevant keywords related to your products and incorporate them naturally in your product descriptions, titles, and meta tags. This helps search engines understand the content of your product pages and improves their visibility in search results.
7.4. Optimizing product images
Ensure that your product images have descriptive file names and alt text. This improves accessibility for visually impaired users and helps search engines understand the content of the images.
8. Enhancing product listings with apps
8.1. Exploring Shopify app store
Shopify has an extensive app store offering various apps that can enhance your product listings and improve your store's functionality. Explore the app store to find apps that suit your specific needs.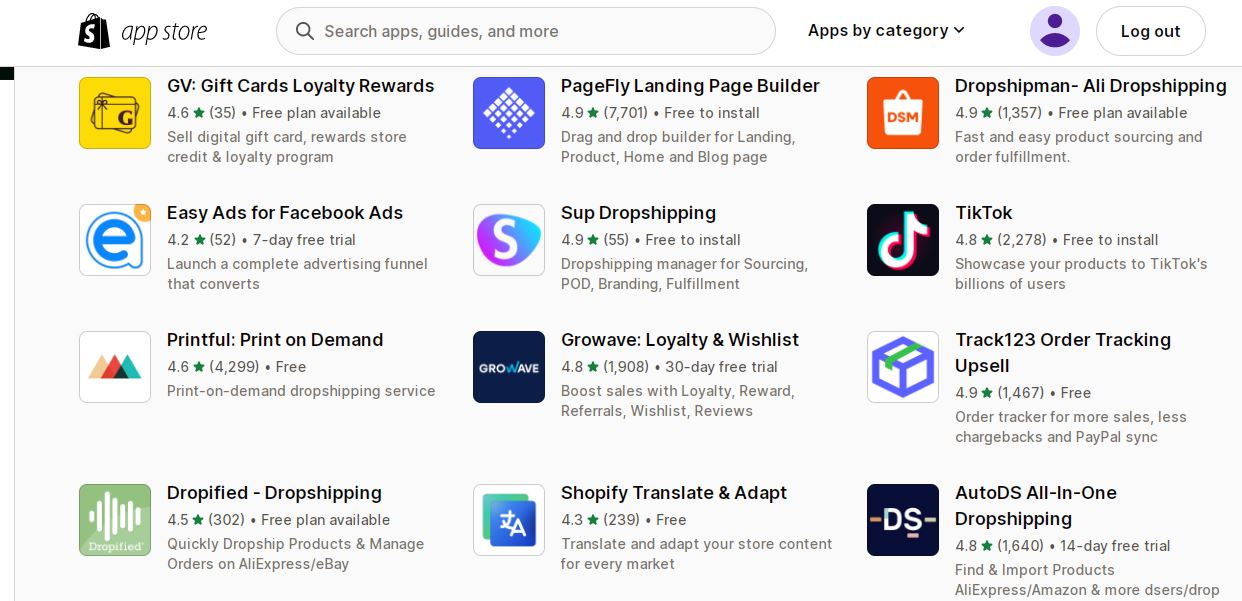 8.2. Installing and configuring apps
Once you've selected an app, follow the instructions to install and configure it according to your preferences. Apps can add features like product reviews, upsells, cross-sells, and more to enhance your product listings and boost sales.
9. Conclusion
Adding products to your Shopify store is an essential step in launching and running a successful e-commerce business. By following this comprehensive guide, you now have a solid understanding of how to add products manually or in bulk, optimize product pages for SEO, and enhance your listings with apps. Start adding your products, optimize them for maximum visibility, and watch your online store thrive!