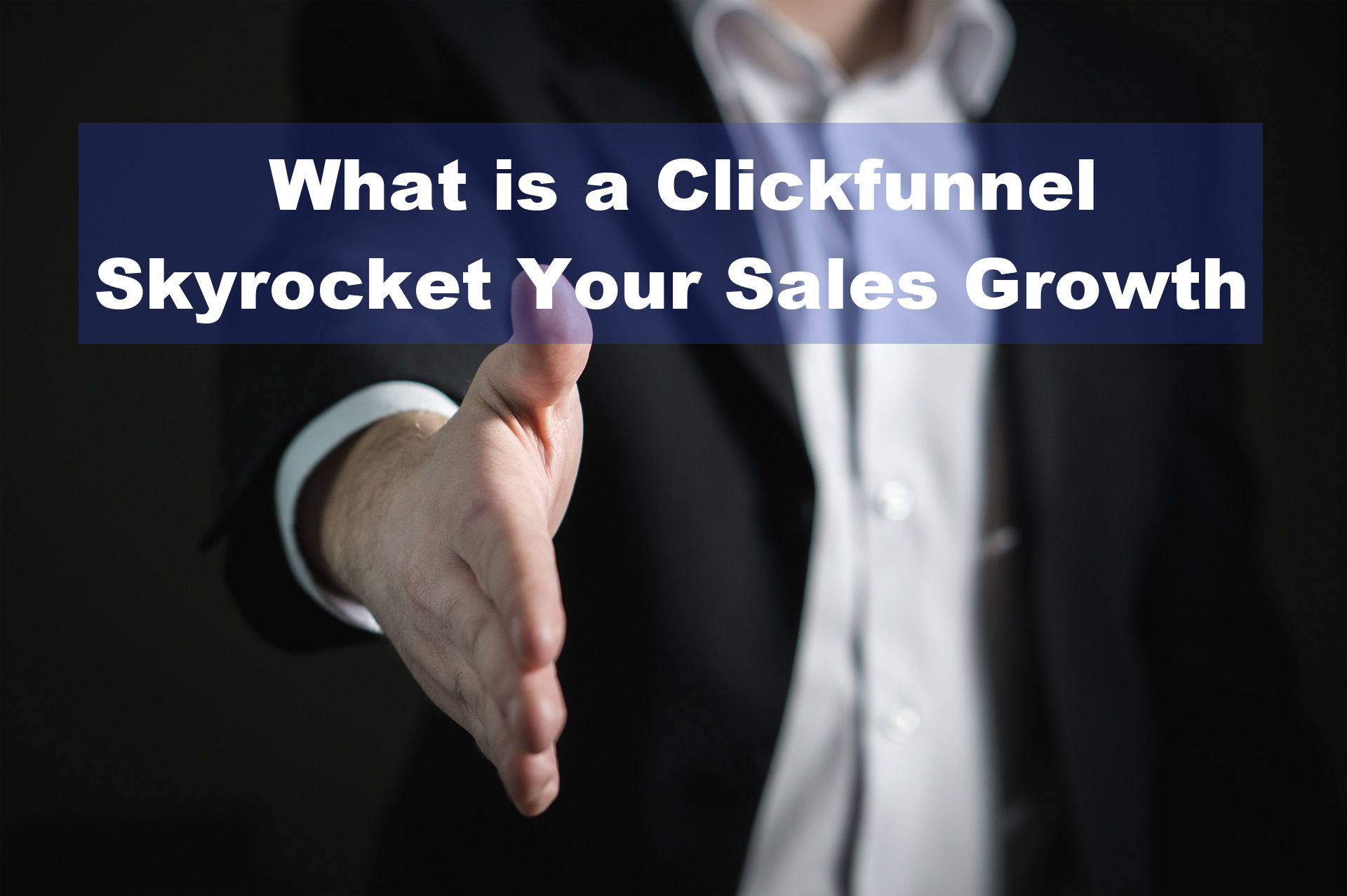 Look at How ClickFunnels Can Skyrocket Your Sales Growth in 2020
Are you selling online? If so, you're always on the quest to increase your sales and stay one step ahead of your competition. Search Engine Optimization or SEO is by far the best technique to rank your website in SERPs. Still, digital marketers prefer employing every other marketing strategy to increase sales – ClickFunnels is one of them. But What is a Clickfunnel actually ?
If you're reading this article, there are greater chances that you've been trying to figure out the hack to increasing sales using ClickFunnels Platform. If so, you've landed on the right page. Follow this post and learn everything you need to know about ClickFunnels.
What is a Clickfunnel ?
ClickFunnels is an exclusive self-publishing e-commerce platform that allows businesses to launch, market, promote, and sell their product on the internet. In fact, ClickFunnels is a one-stop-shop to marketing your product online and showcasing it to the maximum potential audience possible.
ClickFunnels platform offers sales funnel strategy to let users market products to the interested audience. Obviously, marketing a product to 100 interested people is a lot better than 10,000 irrelevant audiences.
Funnel options provided at ClickFunnels are specifically made for certain businesses, services, and products. To sum it all, ClickFunnels platform can definitely help you skyrocket your sales growth in 2020.
When you're running a business in 2020, you must be aware of how to design, launch, code, market, and manage your products or services. Or at least, you should have enough capital to hire people having the required expertise. But when we're talking about digital marketing, there are several tools that can be a part of your one-man-army.
Even if you're a one-man-army running your business and quite confident about making enormous sales every month, a time will come when you will be left alone with bulk work. Obviously, the workload required to manage your current customers while making efforts to engage more audience is overwhelming.
This is where platforms like ClickFunnels come in handy. In simple words, ClickFunnels helps you build, design, manage and monitor landing to engage more audience with minimal effort. You can set up a fully automated landing page and minimize your effort to much extent. Believe it or not, as soon as you will employ ClickFunnels in your business, you'll conclude that every business needs a funnel.
In a nutshell, here is a quick review of ClickFunnels:
ClickFunnels is all about automating your sales process and minimize the effort required to control the buying experience.
Online businesses can benefit from sales funnels specifically made for some products or services – providing an easy solution to ranking your products, services, and web in SERP.
ClickFunnels makes lead generation and conversion much easier than traditional marketing tactics.
There were 3 pros of employing ClickFunnels in your business. But there's more to this platform than just simplifying the buying experience. Follow this post and find out.
What Does ClickFunnels Do?
ClickFunnels platform allows business marketers to set up responsive web pages for their products/services specifically for the targeted audience – these web pages are also called funnels. These landing pages are specifically crafted to take personal information from users i.e. contact information, email address, gender, or to let them fill a form.
In short, no matter if the users are purchasing your products or just entering their email addresses in exchange for a discount, your chances of increasing your sales increase.
But how does it help? Well, if your website's bounce rate is high, it probably means that more and more people are opening your site. They browse through the webpages and then close them without performing an action. This is where ClickFunnels comes in handy.
Say goodbye to those bulky yet complex tools you used to manage sales management. ClickFunnels is your one-stop-shop to designing quality landing pages and generating more leads. Using ClickFunnels, you have the following automated tools at your service:
Training materials
Email autoresponder
Affiliate management
Landing page design
Website hosting
Ongoing support
Integrated payment methods i.e. Stripe, PayPal, etc.
A/B testing
Multi-Million Dollar templates

How Does ClickFunnels Work?
As the name suggests, ClickFunnels platform is the foundation of creating special landing pages to increase lead generation – turning into sales over time. You'll have greater chances of getting information from people interested in your business. You can use this information later for marketing purposes.
Using ClickFunnels, you can build different types of funnels to let users perform different actions for different kind of businesses. Generally, ClickFunnels can be used for any to every type of business.
Guess what? People keep sharing funnels on the internet. There is no need to build landing pages from scratch. But even if you want to, you don't need to have high-grade designing skills to create a responsive landing page at ClickFunnels.
With just a few minutes of drag and drop interface, you're ready to launch a custom funnel to convert your potential audience into customers.
How to Use ClickFunnels : Facebook Ad Campaign
If you're trying to increase your sales growth in 2020, the era of social media, you've probably tried promoting your products/services using Facebook ads. Did it work? Well, you probably have a low ROI. This is because when users shift to your business website after clicking an ad, they're distracted to dozens of other things on your website.
For instance, if the Facebook Ad was intended to let users enter the email address for an upcoming sale, right after they were redirected to your site, they clicked on its logo, menu, or other options. Hence, you were charged for a click and couldn't generate the lead. This is where funnels can help.
It is better to create landing pages for your Ad campaigns. So, when a user clicks on the Ad to enter an email address, he must be redirected to a webpage asking for an email address and nothing else. Note that quality funnels quickly grab the user's attention so they are willing to perform an action without hesitation.
To make your ad campaigns even more successful, it is recommended to offer your audience something in return i.e. discounted offers, coupons, free useful PDF, or an entry in lucky draw. Sounds fair enough?
How Much Does ClickFunnels Cost?
"Is ClickFunnels platform expensive for my business?" and "How much is ClickFunnels?" are certainly a million-dollar question. And probably, you've been looking for the right answer from the start.
So, what it's going to cost you in employing ClickFunnels in your marketing campaigns. Well, note that when you're trying to take your business to its full potential, the cost doesn't matter if the ROI is good.
In simple words, if spending $20,000 yearly as an investment yields you $100,000, you'd definitely want to invest more with such great ROI. Same is the case with ClickFunnels.
If funnels are employed correctly, you can generate a good amount of sales every month – making them a permanent part of your marketing campaigns. Make sure to keep ROI into consideration when using ClickFunnels to generate more sales.
Key Features of ClickFunnels
Though there's much more to v, the three key features of using this sales funnel tool include access to unlimited premium funnel templates, funnel editor, and sales analytics.
1.  Funnel Templates
As discussed earlier, there is no need to develop funnels from scratch. There are dozens of tested and proven funnel templates available. Whether you're looking for a funnel to generate sales or gather useful information, ClickFunnels has got you covered. After choosing the funnel type, you have the option to select from both paid and free funnel templates. After selecting one, you can preview, A/B test, and customize the template per your marketing strategy.
2.  Funnel Editor
After finalizing the funnel type and template, you'll be redirected to an exclusive funnel editor. All the options are listed on the left side of the panel. Click on any page, select Edit, and you'll have all the options available to customize the funnel for the better good. Make sure to edit your funnel so it suits all features of your marketing campaign. ClickFunnels editor has a drag and drop interface and you don't need to have the technical expertise to build a responsive yet quality funnel. 
3.  Sales Analytics
After you're done setting up funnels to respond to your marketing campaigns, now is the right time to get into conversion tracking. Sales Analytics page of ClickFunnels is certainly the simplest yet most effective part of this platform.
The Sales Analytics page lets you track how your funnels are performing against certain campaigns. It is best to keep customizing the landing pages and conduct A/B testing plan to see which technique works best for you. Note that a landing page tactic what worked best for a particular audience may not serve the same deal to another type of audience.
Can ClickFunnels Replace Your Website?
Well, this question can be answered in a number of ways. In fact, there is no definite answer to this question. It is recommended to keep both i.e. your website and ClickFunnels on the verge of making sales. As we've been discussing, ClickFunnels is certainly the best sales funnel software available online. It provides you all the necessary tools to launch, design, market, and sell your products.
In fact, you can auto-pilot your business using the high-grade features of ClickFunnels. There is no need to program or develop your site, avail a hosting service, buy an autoresponder tool, find an A/B testing tool, and choose a management site because all these services are available in one place – ClickFunnels.
What is the main reason that you're employing ClickFunnels in your marketing campaigns? To generate more sales, right? It is recommended to keep optimizing your site for organic sales and making use of sales funnels side by side.
While you can use ClickFunnels to generate quality leads, a website will keep you listed among search engines in the long run. You will always have the opportunity to introduce new products/services, add more content, and attract users in many ways. Thus, both can be used to increases sales in 2020.
Reasons to Use ClickFunnels Platform to Increase Sales
Here are 4 reasons why ClickFunnels is the best landing page software to increases your sales growth:
1. Create Landing Pages Similar to the Manufacturer
If you're doing affiliate marketing, you can create quality landing pages as that of the manufacturer itself. This will make it easier to build trust among your targeted audience and you will a better chance of making more sales than usual. Guess what? You can mimic a webpage easily without getting into any getting or design using ClickFunnels.
2. Sales Page to Create Brand Awareness
It is best to create sales funnel landing pages like your business website to increase brand awareness. It is recommended to sell and market products with your own brand name, voice, aim, and expertise. When people know who is supplying the product, maybe next time they will directly come to your own website – increasing organic sales.
3. Generate More Sales on Business Website
If you're promoting affiliate marketing on the ClickFunnels landing pages, you can also set an option to redirect customers to your business website after they perform an action. Thus, after getting your cut as an affiliate, you also have a better chance at increasing your customer base – by redirecting customers to your business website.
4. Keep Track of Affiliate Sales
No matter if you're trying to launch new products or increase sales of the current ones, keeping track of your affiliate sales is an important part of online business. Again, ClickFunnels shines. You can keep track of all your affiliate sales all under a single dashboard. Thus, there is no need to use third-party management software to organize them all.   
Final Verdict
By now, you probably have a clear idea what is ClickFunnels platform, how does it work, what are its best use cases and if it's the best choice to increase your online sales in 2020. In a nutshell, ClickFunnels is definitely worth because of its infinite benefit, high ROI, and automaton.
In case you're still concerned about anything about sales funnels, feel free to contact us or leave a reply below.  
Want to try Clickfunnels for 100% Risk-Free?