Are you planning to launch an eCommerce store? Then you've probably come across two of the most popular platforms – BigCommerce and Shopify. But which one is the right fit for your business? In this article, we'll compare BigCommerce vs Shopify, analyzing their features, pricing, and performance to help you make an informed decision. Whether you're an entrepreneur or an established brand, the choice of platform can significantly impact your success in the eCommerce industry. So, let's dive in and explore the differences between BigCommerce and Shopify.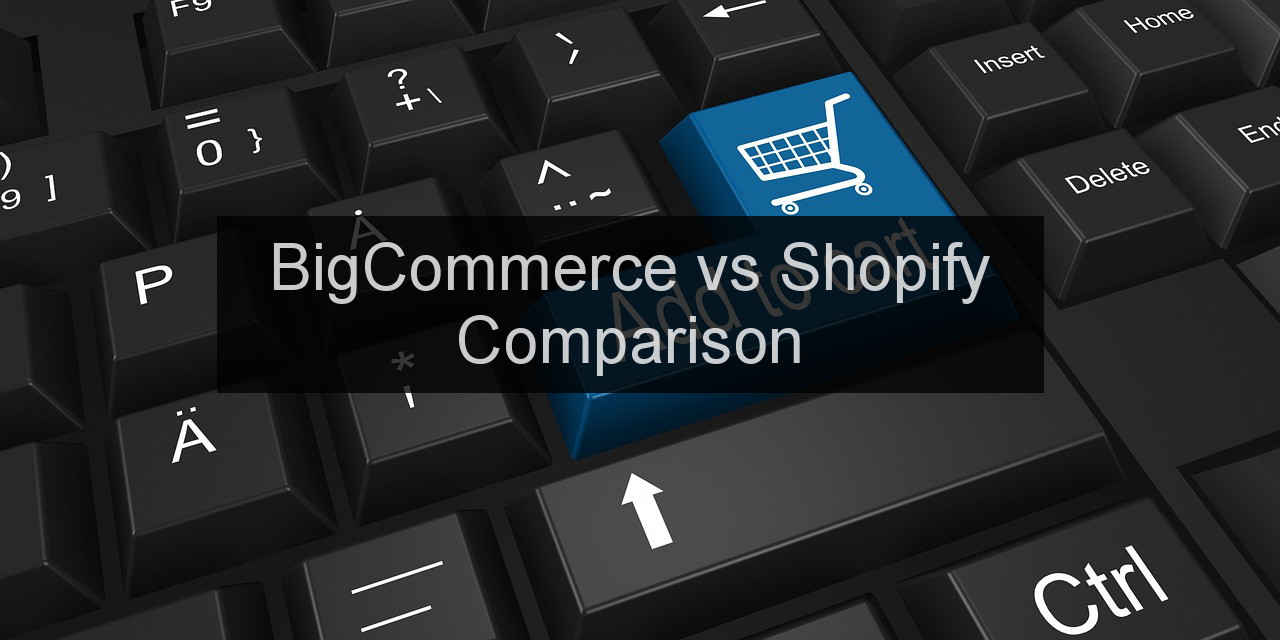 What is BigCommerce :
BigCommerce is a fully-hosted e-commerce platform that enables businesses to launch an online store without the need for hosting or infrastructure maintenance. It provides a variety of features, including a design that can be customised, interaction with many payment methods, and support for a vast array of third-party applications and plugins. In addition, it provides choices for enterprise businesses.
What is Shopify :
Shopify, on the other hand, is a popular e-commerce platform that enables businesses to build an online store fast and easily. It offers a variety of capabilities, including shop design customization, support for many languages, and compatibility with a vast array of apps and plugins. In addition, Shopify offers numerous tools and resources to assist with marketing, SEO, and other facets of operating an e-commerce business.
BigCommerce vs Shopify Comparison
Pricing Structure :
The pricing structure is one of the primary distinctions between BigCommerce and Shopify. BigCommerce features a tiered pricing structure with three different levels, but Shopify has four different tiered pricing options. BigCommerce's price plans are often more expensive than Shopify's, but they include more advanced features and a superior level of customer service.
Themes and Design :
Design and customization choices are the second difference between the two platforms. BigCommerce has a lesser range of free and paid themes, but they are generally more versatile and configurable. Shopify has a larger collection of easily customizable free and premium themes.
SEO :
BigCommerce includes a more complete set of SEO and marketing services, as well as product reviews and customer ratings, email campaigns, and abandoned cart recovery. Shopify offers these functionalities as well, however, they are often accessible via additional apps and plugins. BigCommerce provides a more adaptable and configurable platform, but it is more expensive and requires greater technical expertise to install and run.
Shopify is more cost-effective, user-friendly, and simple to set up and run, but less adaptable and customized. Both platforms offer a selection of third-party apps and plugins that may be used to add additional functionality to your online business, so it's crucial to determine which platform has the apps you require.
Scalability :
BigCommerce is more suited for enterprise-level organizations in terms of scalability since it supports an unlimited amount of products and categories and can handle greater traffic and sales volume. Shopify is scalable, however, the number of products and categories is limited. Both platforms provide a number of support alternatives, such as documentation, tutorials, and community forums. BigCommerce provides a greater level of assistance, with specialized account managers and priority support, whereas Shopify's support is more focused on self-service.
Payment Gateway :
Comparing BigCommerce and Shopify is also essential in terms of payment gateway alternatives. Both platforms provide an array of built-in payment gateways alternatives, such as PayPal, Stripe, and Square. BigCommerce provides more integrated payment gateway alternatives than Shopify. Additionally, BigCommerce supports bespoke payment gateway integrations, which might be useful for organizations that require a non-standard payment gateway.
Inventory Management System :
Consider also the features of the inventory management system. BigCommerce has more sophisticated inventory management capabilities than Shopify, including inventory tracking, low-stock notifications, and customized product options. Shopify also offers inventory tracking, although these functionalities require other apps.
Security :
Both platforms are PCI-compliant and offer SSL certificates to protect consumer information. BigCommerce offers additional security capabilities, such as built-in fraud detection, whilst Shopify offers additional security features via its apps.
Comparison table between BigCommerce and Shopify :
| Features | BigCommerce | Shopify |
| --- | --- | --- |
| Monthly Cost | Starting at $29.95/month | Starting at $29/month |
| Transaction Fee | None | 2.0% to 0.5% per transaction based on the plan chosen |
| Bandwidth | Unlimited | Unlimited |
| Products | Unlimited | Based on plan |
| Payment Gateway | 65+ including PayPal, Stripe, and Amazon Pay | 100+ including PayPal, Stripe, and Apple Pay |
| Themes | 150+ including free and paid themes | 100+ including free and paid themes |
| Mobile App | Yes | Yes |
| SEO | Built-in SEO features | Built-in SEO features |
| Customer Support | 24/7 support via phone, email, and chat | 24/7 support via phone, email, and chat |
| Benefits | – Robust multi-channel selling features | – User-friendly interface and easy-to-use tools |
| | – Strong SEO features and built-in marketing tools | – Wide range of payment options and international sales |
| | – Advanced analytics and reporting capabilities | – Easy integration with social media platforms |
| | – Powerful shipping and tax management capabilities | – Large app store with a wide range of third-party apps |
| Features | – User-friendly interface and easy-to-use tools | – Ability to create a personalized online store |
| | – Comprehensive inventory management system | – Automatic backups and data storage |
| | – Scalability to support growing businesses | – Multilingual support for international customers |
| | – Robust security features to protect customer data | – Advanced customization options for the store design |
It's important to note that both BigCommerce and Shopify offer many more features and benefits than those listed here. The choice between the two platforms ultimately depends on your business needs, budget, and personal preferences. Consider factors such as the size of your business, the number of products you plan to sell, and the level of customization and control you want over your store before making a decision.
Conclusion :
BigCommerce and Shopify are both excellent e-commerce platforms that offer a variety of features and tools to assist businesses in establishing and managing online stores. Both BigCommerce and Shopify are excellent eCommerce platforms that cater to different needs. BigCommerce is better suited for larger businesses with complex needs, while Shopify is ideal for small to medium-sized businesses looking for a user-friendly platform. When deciding between the two, it's important to consider your budget, the size of your business, and your specific needs. We hope that this comparison has helped you make an informed decision on which platform is best for you. Don't forget to also take advantage of free trials and demos to get a hands-on experience before making a final decision. Choose the platform that aligns with your business goals and sets you up for success.